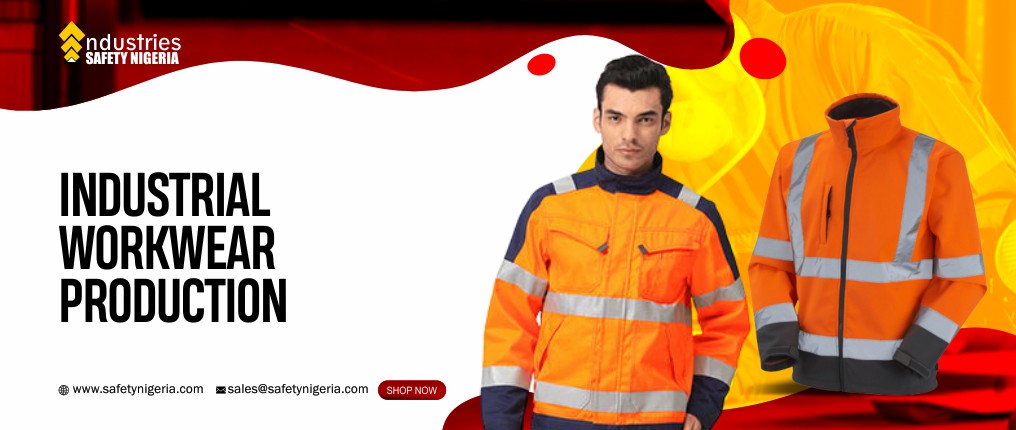 Whether full- or part-timers; mechanics, machinists, line workers, installers, technicians, office staff, supervisory personnel, or front-line sellers, Industries Safety Nigeria has the workwear solutions to meet the needs of your business for Industrial Workwear Production. We manufacture a wide range of workwear uniforms at our factory. We have been supplying major companies with their garment requirements since 2015, and have established an excellent reputation for quality and customer service.
These are a few of the garment types that we can produce.
Work Shirts
Range of soft-touch lightweight 100% cotton safety shirts, providing high-visibility with excellent comfort, and SeedCOOL venting.
Work Trousers
Tough work trousers available in a variety of lightweight and heavy-duty fabrics, with styles, varied to suit your requirements.
Waterproof raincoats in Breathable or non-Breathable fabric with built-in roll-up hood, storm flap, and a variety of pockets.
Hardwearing Overalls in a variety of colors and styles with elasticated waist and cuffs, multiple pockets, and zipped front.
Bib & Brace
Traditional Bib & Brace design with durable easy-click fasteners, and a wide variety of pocket configurations and colors.
Specialist
Hazardous conditions require specialist technical fabrics, such as Flame Retardant, Electric Arc, Chemical Splash, and others.
We don't just sell off-the-shelf garments. We can also design and tailor our garment styles to meet your exact requirements. Need more pockets? No problem. Need a unique style? We can do it. No matter what you need, we will partner with you to achieve the best results for your business. Where more extensive garment development is required, it may be possible to provide a standard existing garment in the meantime, whilst the new specification is developed.
We are close to you. Contact us using the below details
Call: 09093333374, 08064338888
Email: Sales@safetynigeria.com
We provide cost-effective uniform solutions for all your employee workwear needs. We help you choose the uniforms that are right for your workers and the various jobs they perform.
Large selection of manufacturing and factory uniforms
Choose from our lines of traditional and contemporary industrial uniforms, as well as from our Flame Resistant (FR) and High Visibility workwear options to keep your personnel safe and in regulatory compliance. Among our more than 40,000 in-stock SKUs, you'll find:
Industrial shirts and pants
Denim jeans and shirts
Office dress shirts and pants
Flame Resistant (FR) apparel
High Visibility clothing
Lab and counter coats
Jackets, hats, and gloves, And more
We are close to you. Contact us using the below details
Call: 09093333374, 08064338888
Email: Sales@safetynigeria.com