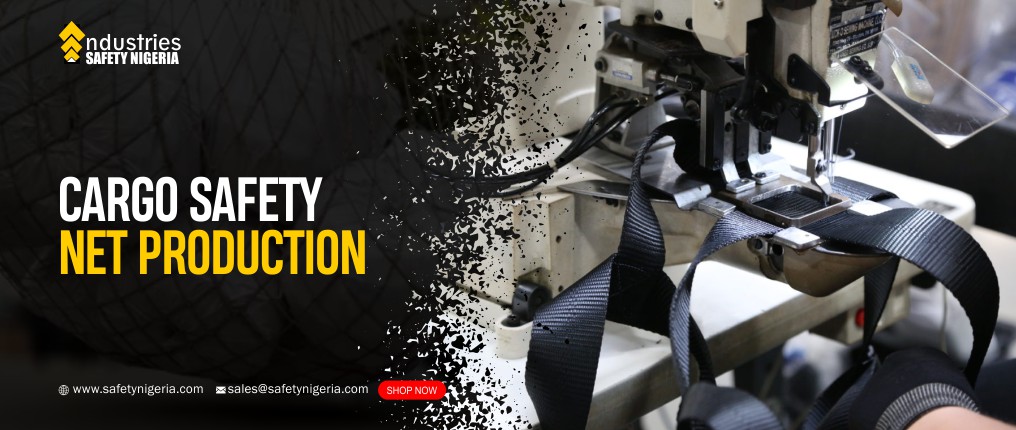 Industries Safety Nigeria With over 5 years of experience in the cargo net, sling and rigging industries, we are your one-stop-shop for all of your heavy rigging and lifting needs. When Only the Best is Good Enough!
Since the beginning of cargo net production in 2015, Industries Safety Nigeria employees have hand-crafted over one thousand cargo nets around the globe. Our employees take pride in cutting, gluing, and sewing cargo nets that secure the shipments vital to our customers located throughout the globe. When a load of supplies, equipment, or humanitarian aid needs to travel around the world via Air cargo plane, ship, etc, Industries Safety Nigeria cargo nets secure those important loads.
Cargo Net - Repair
Industries Safety Nigeria began its relationship with some of the marine companies in 2015 when employees began repairing cargo nets. Nearly 5 years later, Industries Safety Nigeria still receives cargo nets that have traveled all over the world then back to Safety Nigeria to be refurbished.
The repair process begins when employees sort and evaluate incoming used nets. Those damaged beyond repair are scrapped after salvaging hooks and hardware that may be recycled. Cargo nets deemed repairable are fixed, then thoroughly inspected. Our 26 point inspection process seeks faulty hardware, faded or damaged webbing, and damaged sew points.
Industries Safety Nigeria makes new or repairs thousands of nets every year. Feel free to contact us using the below details.
Call: 09093333374, 08064338888
Email: Sales@safetynigeria.com