Breathing apparatus cylinder works
For reliable breathing apparatus services, nobody does it better than Industries Safety Nigeria. Our workshop facility has a specialist refilling compressor that's capable of recharging cylinders up to 350bar of pressure with filtered breathable air. We also provide professional routine maintenance and repair services that are crucial for keeping your equipment in proper working order. With an outstanding team of experienced engineers, you can rest assured that your diving cylinders and breathing apparatus cylinders are in good hands.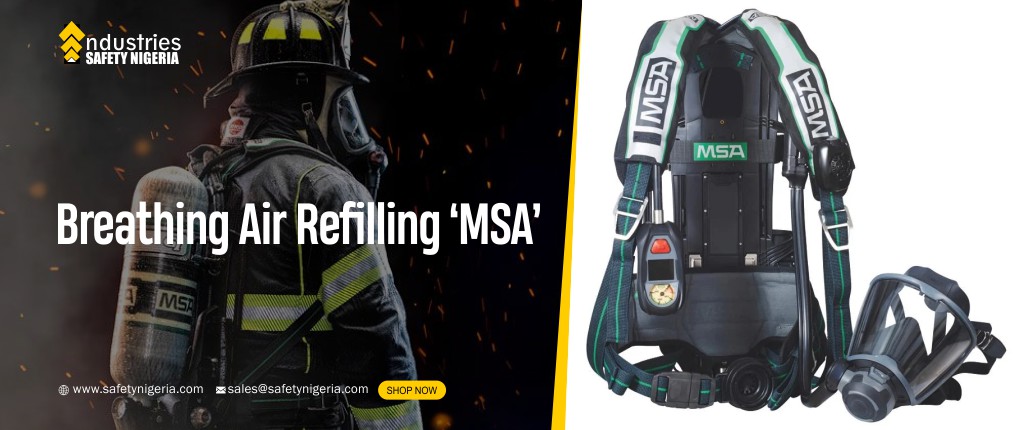 The dangers associated with breathing contaminated air are critical when using SCBA tanks in emergency situations. To ensure SCBA air quality, CAN3-Z180.1-00 (Section 15.2) requires that air produced by the breathing air system shall be submitted for purity analysis at least once every 6 months. Additional analyses shall be required following major overhaul modifications or extensive repairs to the breathing air system. Many companies have adopted a 3-month air testing schedule and maintenance program.
Industries Safety Nigeria offers a full range of high-pressure breathing Air cylinder filling systems allowing to fill daily 05 to 50 Breathing air cylinders at a pressure of 150 to 350 bar. The cylinder filling system designed to be connected to an Air compressor. As a nationwide supplier of quality breathing apparatus equipment, Industries Safety Nigeria provides the perfect life safety solutions to handle any hostile or hazardous environment. From underwater diving equipment to emergency escape sets, we'll help you breathe easy with a wide selection of products available for either purchase or hire. Our team will then show you how to use them and refill or service your equipment in our on-site workshop facility.
Servicing and Maintenance
In an emergency situation, you need to think fast and clearly, which is hard to do if you're having trouble breathing. Industries Safety Nigeria offers a full range of breathing apparatuses to handle any situation. Our self-contained breathing apparatuses (SCBA) provide breathable air to your fire and rescue team. If you work in an industry that comes in contact with hazardous chemicals, then we can supply reliable escape sets to protect the health of your workers. For emergencies at 35,000 feet, reliable airline respirators are the only way to guarantee the safety and consciousness of your passengers and crew.
Supply and Installation
Whether you need to hire a reliable breathing apparatus or get your existing unit serviced, you can bring it down to our fantastic in-house workshop facility in Port Harcourt or any of our outlets in Nigeria, where our professional team will take care of everything. Our facility also has a fully stocked store that provides additional components for purchase, including:
BA control boards
Chemical suits
Gas suits
Fixed gas systems
Distress signal units (DSU)
Personal safety lines
Breathing apparatus mask communication
Helmets, gloves, and axes
Compressed gas signage
Refill and Hire
Should you require breathing apparatus cylinder refilling at Industries Safety Nigeria head office, we offer a walk-in cylinder refill facility. Our extensive in-house workshop facilities and fully trained engineers ensure that getting your breathing apparatus cylinders refilled is quick and convenient. Our refill facility enables cylinders to be dropped off, expertly refilled, and then collected on a set date.
For your convenience, our workshop is open from 9am to 6pm from Monday to Friday. Please contact us on 09093333374, 08064338888, or email sales@safetynigeria.com should you require any further information.
Breathing Apparatus Products
Industries Safety Nigeria stocks and supplies breathing apparatus products and equipment that work in conjunction to protect the operative, monitor the environment, and promote life safety. We also stock and supply protective equipment such as chemical suits to enable safe working in other hazardous environments. Should you require any additional or replacement components our range includes the following:
BA control boards
Chemical suits
Gas suits
Gas monitors
Fixed gas systems
Distress gas systems
Fixed gas systems
Distress signal units
Personal safety lines
Breathing apparatus mask communication
Helmets, gloves, and axes
Compressed gas signage
Always Reach us Below
Call 09093333374, 08064338888
Email: Sales@safetynigeria.com