Road Marking And Traffic Installations Company Store in Nigeria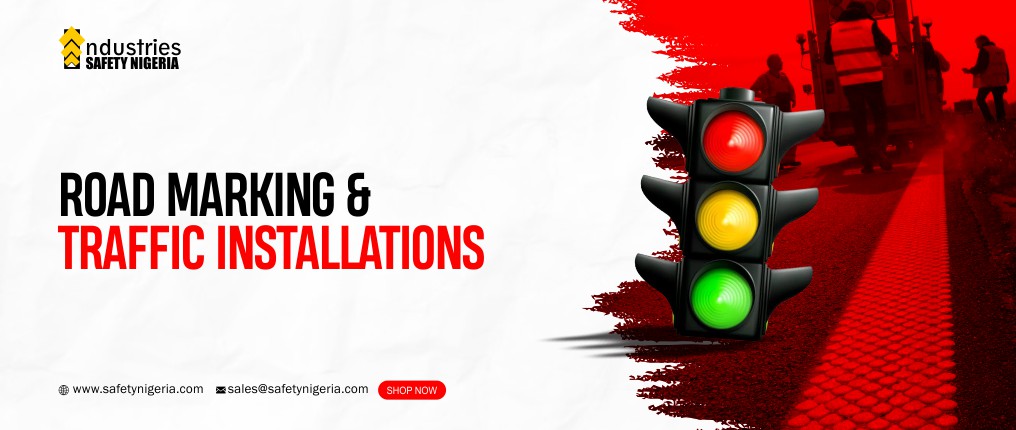 Industries Safety Nigeria is professional road construction, road marking company based in Nigeria. We are an indigenous and private company that produces and install traffic signs, health and safety, and provides surface marking services; using national and international best practices to ensure the highest standards in workmanship and service delivery. So as a customer of Industries Safety Nigeria, you will find that our service goes beyond the completion of a brief.
It is our mission to provide high-quality road marking products and unique customer service to both public and private organizations at an affordable price. Our experienced and highly trained crew are capable of expertly tackling any job, on any surface, whatever the scale. From major infrastructure projects to a few meters of the white line, Industries Safety Nigeria with its subsidiary company named "Inclineworks International Limited" is flexible enough to deliver the right solution. We produce our traffic signs locally at our factory and also provide related traffic management solutions.
We have over 6 years of experience and a track record of excellence with clients both in the private and public sectors. Industries Safety Nigeria can undertake any type of road marking job, no matter how big or small. We are available 24 hours a day, 7 days a week, and are well-positioned to fulfill our client's requirements in any of the thirty-six states of the federation and the FCT Abuja. We employ local and international partnerships to achieve the best in materials, equipment, and manpower. 
Do you have a project that matches our expertise? Kindly contact us. We employ project management methodologies to ensure a successful project. Kindly Email us at Sales@safetynigeria.com or Call 09093333374, 08064338888. Most of the products and services we deal on this category are listed below
Road Markings
Extrusion
Extrusion thermoplastic product consists of a mixture of light-colored aggregates, pigment, and extender bound together with a thermoplastic binder system. Typically used as a high output marking for traffic delineation, advisory markings, and mandatory markings on all categories of roads. Extrusion is generally used on new road construction projects, asphalt, tarmacadam, and surface-dressed roads.
Rumble Strip/Raised Rib Line
A specialist thermoplastic road marking material, which can be laid as a profiled edge line marking to enhance wet night visibility and which, when overrun, will provide a sensory and auditory impulse to the motorist. Typically used on motorways and dual carriageways as median edge lines. Also used as edge lines on rural roads. Generally used on approaches to roundabouts and as part of low-cost accident schemes (rumble strips).
Spray Markings
Spray Thermoplastic Road Marking Material is an economical and durable rapid dry, 100% solid pavement marking material that, when applied to the roadway, forms a uniform reflective and durable road marking Typically used for traffic delineation, advisory markings, and mandatory markings on all categories of roads. Spray applied thermoplastic is generally used to renew existing road markings.
Rainsafe Marking
Rainsafe is a specially developed high-performance thermoplastic combined with a profiled surface created by imprinting a pattern onto molten thermoplastic to maximize the wet night visibility performance. The imprinted patterns are rotated slightly in the direction of on-coming vehicles. As a result, the marking allows light from car headlamps to be reflected by the driver in wet night conditions. Typically used as edge/lane lines or centerline markings on single carriageway roads. Also used as lane lines on Dual Carriageways/Motorways.
Screed Markings
Screed applied reflectorized thermoplastic road markings are available in various levels of Luminance, Skid Resistance & Reflectivity. Typically used as a low output marking for traffic delineation, advisory markings, and mandatory markings in urban areas where space is limited and for small sites.
Temporary Road Markings
This is a removable road marking tape technology that provides the ideal solution for temporary road markings on road works where the existing surface course cannot be damaged. Available in a range of colors including black (used to mask out existing road markings that may conflict with the road works). When the tape is removed, the road surface is left with no scars or trace lines. Generally used on new road construction projects as a temporary road marking to delineate traffic through road works and construction sites.
Car Park Layout, Design, and Marking
Our extensive experience with marking Car Parks enables us to provide a Design & Application service for all types of markings from small car parks right through to multi-story car parks.
Complimentary products & services include:
Pre-formed speed bumps and car stops
Anti-skid/colored Surface
Reserved spaces
Acrylic coatings in a variety of colors to highlight disabled parking
Supply & erection of road signs
Flexible delineator posts/bollards
Road sweeping
Pre-formed thermoplastic road markings
Routing & sealing of both asphalt and concrete joints
Convex mirrors
Airfield Marking
We offer a variety of services including Road Construction, rehabilitation, and maintenance of roads/ pavement, drains, and storm drain.
Warehouses, Factory, and OHS Marking
We undertake line-markings both within and outside the factory complex and grounds. This includes Operational Health & Safety (OHS) markings in work areas. Our commercial line marking services include the following:
Car park layout, design, and marking
Truck, forklift, and pallet lanes
Management, visitor, disabled and reserved parking bays
Loading zones
Stenciling and hazard identification
Clearance zones
Pedestrian walkways
Fire exits
Storage areas
Lettering
Hatching
Directional arrows
Solvent or waterborne applications
Removal or over-painting of old-line marking
Flooring & resurfacing
Safety Signage
Signage
Industries Safety Nigeria manufactures, installs, and supplies safety signage for various application including:
Reflective and non-reflective traffic signage
Directional signage
Occupational safety at work signage
School, Sports and Playground Marking
We carry out markings including full-color spraying of sports courts and play areas offering improved grip and great visual impact.
Multi-use game areas
Car Parks
Basketball Courts
Netball Courts
4 Square Courts
Tennis Courts
Any other custom item
Preformed Markings
Computer-generated to any design, Preformed Road Markings represent the ultimate in quality road traffic markings. Preformed Road Markings offer long life and easy application by thermal bonding to the road surface. Integrated designs such as cycle logos are created with high-quality precision.
High quality and durable
Extensive range of colors available
Reflective or Non-reflective as required
Environmentally friendly
No stencils and minimal setting out is needed
Customized designs and company logos available on request
Road Stud and Cats Eyes
We supply and install a full range of permanent and temporary road studs including:
Traditionally milled cats eye
Road insets
Road Safety LED Products
Surface applied
Armour studs
Temporary road studs
Non-reflective pedestrian crossing
Traffic Management Solutions
Static Lane Closure — Utilise temporary road markings, signage, and road furniture to close off lanes for various types of maintenance works. These closures are generally carried out during off-peak hours.
Mobile Lane Closure — Where short duration mobile works are required on we provide Mobile Lane Closures where advance warning vehicles are positioned over to alert drivers of the presence of obstructions, diversions, or closing a lane for maintenance works.
Temporary tape markings — Tape is another form of creating delineators for the road user during traffic management schemes. It can be used for blacking out exiting road markings together with creating lane lines, letters, and symbols.
Stick on studs — Used to draw attention to road hazards like bull nose and other road obstructions.
Traffic Management Furniture — We can provide quotations and advice on all types of Safety Barriers or Protection systems your job may require. Delineator posts, bollards, barriers, signage, and road cones save lives by properly directing traffic and reducing the possibility of accidents in many types of locations. Our furniture is highly visible, day and night. They clearly delineate driving lanes with bright colors and optional reflective sheeting.
Speed Hump Installation
Our traffic calming options include:
Speed Humps
Rubber Kerbs
A Speed Cushions
A Separation Kerbs
Email us at Sales@safetynigeria.com or Call 09093333374, 08064338888.