As one of the leading HSE training institutes or companies, We give global-level preparation and issue world-perceived endorsements or Certificates. With our group of all-around prepared and experienced staff, we produce labor of different capabilities, abilities, and capacities. We either train at our completely prepared office or at the organization's site.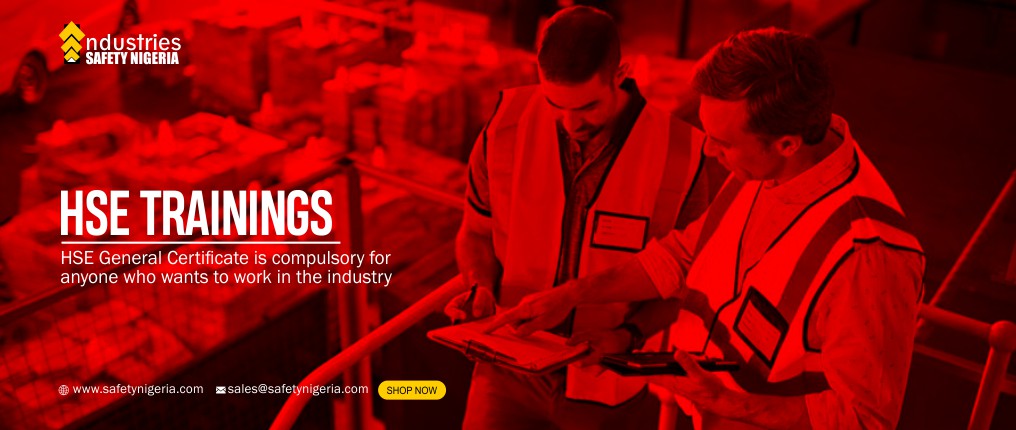 Industries Safety Nigeria offers and trains safety officers or none officers on the best practice to work. Hse general certificate is compulsory for anyone who wants to work in the industry or safety company. Safety Nigeria has a subsidiary company "Inclineworks International Limited" which takes care of all the training including the HSE. You will find below courses we can train you on and not limited to it. 
Course Overview
1. Permit To Work (PTW) Training: This course is mandatory for those implied in high-hazard exercises like bound space passage, hot work.
2. Confined Space Entry Training: Numerous positions in the oil and gas industry require certificates in the Confined Space Entry. This course, along with the Roustabout training and certificate, will help your odds of work.
3. WSO HSE 1,2,3 Professional Training: This course will manage the cost of the individuals who look for globally perceived and licensed HSE certifications, the chance to accomplish their professional objectives in word-related wellbeing and security.
4. General HSE (Level 1 & 2) Certification: Members are given useful security preparation and the General HSE Certificate, levels 1 and 2.
5. Basic First Aid and CPR Training: Be guaranteed as a crisis first aider and learn approaches to save a life, keep an injury from getting more regrettable, advance recuperation.
6. Food Handling and Hygiene Course: Wellbeing preparing and affirmation in food taking care of and cleanliness outfit members with fundamental information to work securely in the kitchen at both coastal and seaward areas.
7. Unsafe Act Auditing: Lift your certainty as security proficient by partaking in the HSE Training Institute perilous demonstration reviewing and announcing course to guarantee a safe workplace.
8. Safe Handling of Chemical (SHOC) Training: Safe Handling of synthetic substances is fundamental for people who handle synthetic substances at work. This course outfits you with required industry best practices and gives you an edge in the pursuit of employment.
9. Roustabout/Rig Helper Training: The roustabout rig helper course is one certain pathway for a section into the oil and gas industry. Participants get three worldwide certificates.
10. Accident Investigation Course: Part of the obligations of the board staff and security faculty is mishap examination. It is anticipated from all HSE faculty and line directors to realize how to lead an occurrence examination and restorative activity.
11. Working at Height Safety Course: Toward the finish of this course understudies will comprehend the danger and dangers while working at tallness. Understudies will likewise exhibit the capacity to work securely with different tallness climbing media.
12. Introduction to Oil and Gas Career Training: This enlistment course is a lifelong pathway for work searchers into oil and gas. Steady employment is wherever however just prepared and ensured staff will get it.
13. Business Development Training: You can begin and benefit from a given business. This course gives your group ongoing devices in essential business improvement.
14. NEBOSH IGC Course: The Nebosh IGC in word-related wellbeing and security is a strongly suggested and around the world perceived wellbeing and security capability.
15. Health Safety & Environmental Courses: This course opens you to the basics of Health Safety and the climate. We train you on the applicable business necessities in wellbeing and security and issue the General and Advanced HSE Certificates, levels 1, 2, and 3.
16. Management Courses: Energetically suggested oil and gas the board training, incorporates worldwide accreditations/certificates
17. Blasting and Painting Training: Proficient training in Blasting (sandblasting, coarseness, and so on) and Painting.
18. Scaffolding Erector Training Certification: Scaffolding erector training (levels 1&2) is all about safely erecting and dismantling scaffolds of various types. The training is fully practicals with international certification.
19. Advanced HSE (Level 3) Supervision: This Health and security course is mandatory for would-be wellbeing managers who have finished the overall HSE. Fruitful understudies will be confirmed and given the Advanced HSE (Level 3) Certificates.
20. HSE Manager's Course: Authoritative development can just occur in a protected climate. An HSE administrator is the one to set the ball rolling and can just do that with the applicable training. Enlist your directors in this active global wellbeing executives' program.
21. BOSIET & HUET TRAINING: Essential seaward or offshore enlistment and departure training are obligatory for all seaward or offshore laborers and the individuals who expect to work seaward or offshore. To guarantee a protected workplace.
22. Work Place Conflict Management Training: The peace promotion instructional class is appropriate for chiefs (Managers) and Human Resources (HR) staff.
23. Rig Safety Training: A rig safety security course is particular wellbeing training for onshore and offshore specialists.
24. Basic Fire Fighting and Rescue Training: The practical fire fighting and rescue course are mandatory for all workforce in the business. Toward the finish of this course, members will realize useful putting out fire methods as well as fire counteraction.
25. Construction Safety Training: Hazards and dangers of injury at project destinations are frequently various. The development security instructional class will fortify your capacity to work securely at project destinations.
26. Rigging and Slinging Training: Practical training on Banksmanship, Rigging, and Slinging training are very important in many industries.
27. Project Management Training: The project management course is sought after and organizations know the worth of equipped task supervisors. This certificate in project management will help your business status.
28. Oil and Gas Related Courses: We presently work a vigorous Oil and Gas Well Services Training in the accompanying control: Wellhead Maintenance and Wireline Services etc. 
Kindly email us at Sales@safetynigeria.com or Call 09093333374, 08064338888