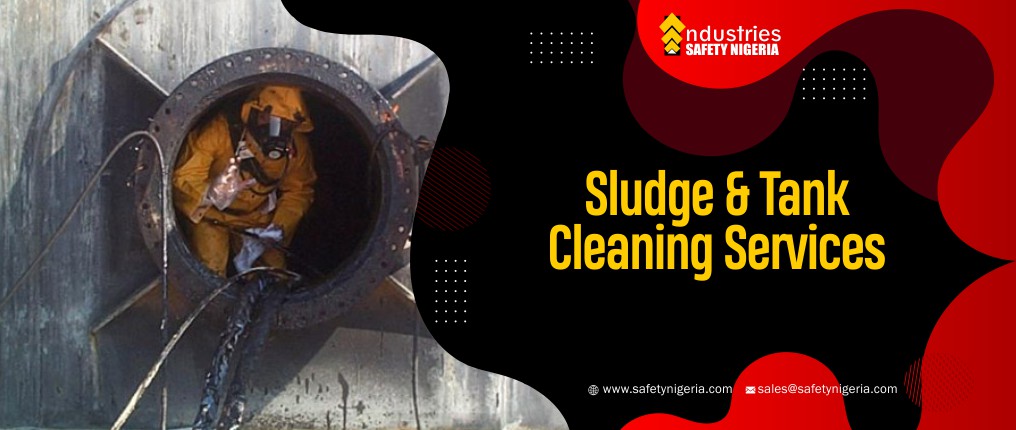 Industries Safety Nigeria is a tank cleaning and related services company in Nigeria. We have practical experience in tank cleaning and related duties – offshore, on boats and fixes, and at onshore offices. We are solid and trustworthy. We clean unrefined wash or handling tanks regardless of the interior arrangements; FPSO, 
Tank cleaning includes discovering cleaning techniques that limit the natural effect and making turn out ok for operators – at the least expense conceivable. Arranging and time to plan are vital pieces of that interaction. Our BlueTag quality affirmation framework furnishes us with mastery and capability from around the world. It permits us to look at projects together to track down the most ideal arrangements where climate, cost, safety, and quality are concerned.
We are the foremost service provider for industrial cleaning, tank cleaning, chemical cleaning, and remediation services. Our world-class tank cleaning services developed using innovative direct injection processes and robotic cleaning technologies. Utilizing our techniques, we not only can clean your tank but to lower your waste disposal costs and minimize your tank's downtime.
Industries Safety Nigeria Edge Services
Our "Edge" services are uniquely cut-out and specialized tank cleaning-related services that we have developed in collaboration with our world-class technology partners to stand-alone turn-key solutions in automated and safe tank cleaning support operations using the state-of-the-art technology-based approach. We deploy them any time we embark on a project.
They include:
Tank mapping/profiling
Tank and confined space gas monitoring
Tank and confined space dangerous gas management (gas blanketing)
On-Site Nitrogen Generation/Supply
Cold tapping.
No Entry process using robotics
Robots can be controlled remotely without any humans entering a tank
– Doing the job without scaffolding.
– The implementation process is reduced by 35%
– 15-20% fewer water savings
– NDT measurements can be done while washing.
– Can operate underwater
– Can provide up to 3000 bar pressure
– Can be equipped with a vacuum for collection and filtration
Our robots can perform tasks like cleaning structures without needing scaffolds or lifts. The robots are able to climb steel structures using magnets and run at high pressure (up to 3000 bar). They can be used on vertical and horizontal surfaces. The robots are the result of many years of R&D and are especially suited for cleaning tanks, ships, and rigs. The robots are remote-controlled so tanks are cleaned from the outside, so-called No Entry systems.
At land-based tank installations, the robot is able to solve complicated cleaning tasks without scaffolds, reducing the need for personnel to enter such installations by approximately 65%. The robots are remote-controlled and are effective and fast. It can navigate on curves and works perfectly upside down. The robots can be programmed to run automatically for optimal efficiency, which reduces the overall process by approximately 35%. There are also environmental benefits. These devices reduce water use by approximately 15-20%.
An acoustic tank inspection system
The acoustic tank inspection system measures sludge volume and topology sediments at the bottom of crude oil storage tanks. The manual method of estimating sludge volumes utilizes dipsticks or gauging rods to take measurements at only a few points in the tank. This results in inaccurate sludge volume measurements because the real distribution is unknown. Our system solves this problem by taking precise readings for calculating sludge volume in the tank while it is in operation.
Safe, effective and cost-saving
Specially trained personnel and collaborative partners with approved tank installations/waste reception systems will facilitate safe and cost-effective work.
We cooperate with our customers to set specific times and locations for our work.
Onshore and offshore tank clean services
Industries Safety Nigeria cleans tanks onshore and offshore. We are experts at finding solutions for common challenges where heights and cleaning methods are concerned. We clean diesel tanks, crude tanks, ballast tanks, drill water, chain wells, and product tanks – dry and wet. We also have extensive experience cleaning thruster rooms/pump rooms, mud pump rooms, engine rooms, generator rooms, and removing marine growth.
Industries Safety Nigeria Tank farms installations have years of experience cleaning land-based tank installations. Our personnel is experienced in automated cleaning with No-Entry systems.
Different types of tanks
We have extensive experience and expertise in cleaning large-volume tanks for ships, offshore and onshore. We also treat tanks for so-called diesel bugs, and we carry out tank classification.
Monitoring air quality using AQ MONITOR
AQ MONITOR provides 24-hour measurement and monitoring of air quality inside tanks and enclosed spaces. The customer can access these measurements/documentation in real-time from their own webpage. Personnel working in monitored environments can feel 100 % safe when this system is in use.
– Individualized monitors are unnecessary.
– The system also measures gases from solvents and flame cutters.
– Costs are reduced.
– Complete measurement data history is available for all hours and days.
– The sensors can be adapted to the customer's needs.
– All measurements are available in real-time, online.
Contact us using the below details
Call: 09093333374, 08064338888
Email: Sales@safetynigeria.com