
an industrial safety & marine products distribution company

an industrial safety & marine products distribution company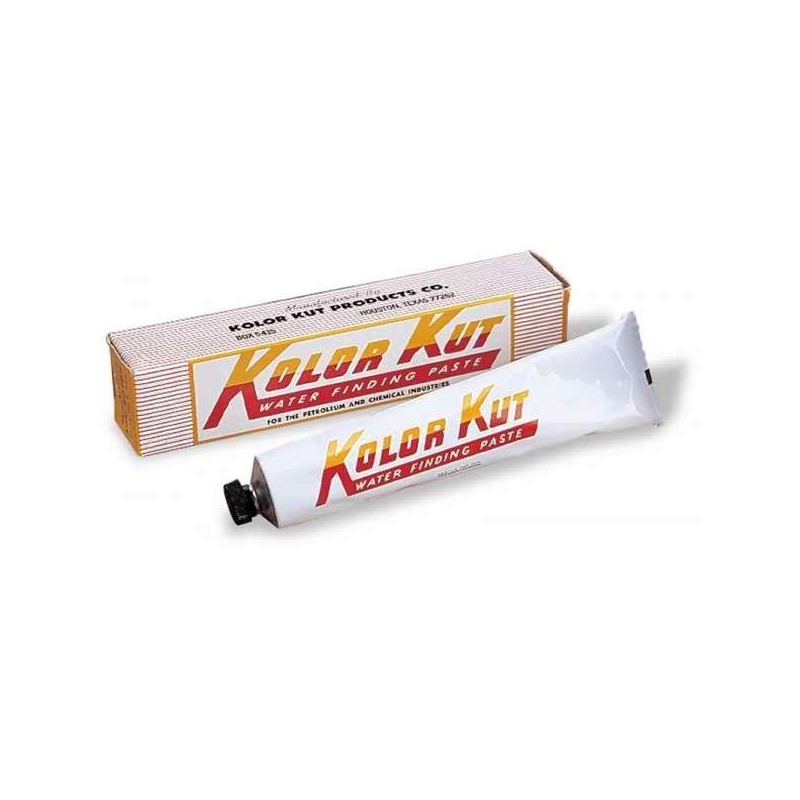 
Kolor Kut Water Finding Paste
Kolor Kut Water Finding Paste, Upon contact with water, this golden-brown-coloured paste turns a brilliant red. You can also use it to successfully gauge all petroleums and by-products for water content, plus sulfuric acid, nitric acid, hydrochloric acid, ammonia, soap solutions, salt, and other chloride solutions. 3 oz. Tube.
Secured

Fast Delivery

7 days Return
Product Description

Kolor Kut Water Finding Paste.
GENUINE Kolor Kut Water Finding Paste, Made in the U.S.A.
For testing for the presence of water at the bottom of fuel storage tanks.
Suitable only for use with Petrol, Diesel, Kerosene, Gas Oil, Heating Oil, Heavy Oil, and Lubricating Oil
Applied to a rod/length of string with bottom-weight, the brown paste changes colour to brilliant red where it comes into contact with water, giving you a visual indication as to the depth of the water present. The water can then be pumped out, and the test repeated until there is insufficient water to pump, at which point one of our Water-Seekers or Oilybits Water Absorbing Polymer can be used to absorb the last of it.
To remove the bulk of the water we would first recommend pumping the water out with a simple self-priming waste oil/water pumps, such as our Drill Powered, Flexible Impeller Pump, and a length of 1/2" Hose (Same size as Garden Hose) before using the absorption media as described above
No official expiry date will keep best when stored between 31F and 115F
12 Individually Boxed 3Oz Tubes Per Outer Box // Outer Box = 172mm x 145mm x 100mm, Weight 1.25Kg
Commodity Code 9026108900.
No expiry date will keep best when stored between 31F and 115F
Tube contents 3oz
12 tubes per full box But Sold Per Tube
4 other products in the same category: