
an industrial safety & marine products distribution company

an industrial safety & marine products distribution company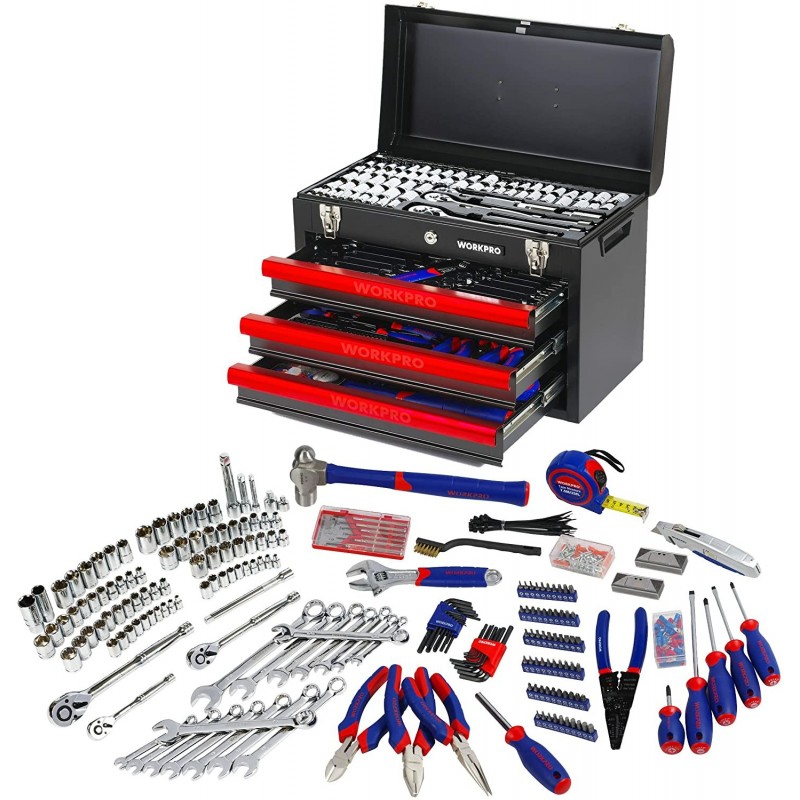 
Performance Workpro Mechanics Tool Set with 3-Drawer Heavy Duty Metal Box
Buy workshop tools and tools box for Safety Nigeria, the leading online safety shop. Buy at lower rate and save. Workshop Tool Set
The Perfect Addition to Your Toolbox. Versatile selection of tools satisfies most needs. Provides a wide selection of the most common SAE and metric sizes. Ideal for most homes/industrial applications
Secured

Fast Delivery

7 days Return
WORKPRO W009044A
Mechanic Tool Set
This WORKPRO 408-piece mechanics tool set for daily life. It contains almost every tool for basic home use. WORKPRO tools in this set are made from high quality materials and feature detailed designs. Ratchet handles, sockets, combination wrenches and hex key are fully polished and chrome plated for increased quality. Pliers are made with nickel plating for anti-rust. The screwdrivers handle and pliers handle are ergonomically designed for an easy-to-use. Hammer constructed by fiberglass handle for anti-bending. Thumb operating tape measure is scaled with both SEA and metric measurement for easy reading. Quick change utility knife comes with 20 piece SK 5 blades. Heavy duty 3 drawer metal case for comfortable collection. All these features make this set excellent at work and wonderful for keeping at home.
Socket Set
WORKPRO socket set is constructed by chrome-vanadium steel forged body for torque, strength and durability. Set includes: (1) 1/4 inch Dr. ratchet handle, (1) 3/8 inch Dr. ratchet handle, (1) 1/2 inch Dr. ratchet handle, (10) 1/4 inch 6 points SAE Dr. sockets, (10)1/4 inch 6 points metric Dr. sockets, (10) 3/8 inch 6 points SAE Dr. sockets, (11)3/8 inch 6 points metric Dr. sockets, (8) 3/8 inch 12 points SAE Dr.sockets, (11) 3/8 inch 12 points metric Dr.sockets, (6) 1/2 inch 6 points SAE Dr. sockets, (6) 1/2 inch 6 points metric Dr. sockets, (6) socket accessories, (2) 3/8 inch spark sockets.
Combination Wrench
WORKPRO 16-piece combination wrench set perfectly made by chrome-vanadium steel, chorme plated and mirror-polished finish, includes metric sizes: 8, 10, 11, 12, 13, 14, 15, 17 millimeters, SAE size: 1/4 inch, 5/16 inch, 3/8 inch, 7/16 inch, 1/2 inch, 9/16 inch, 5/8 inch, 3/4 inch, very comfortable for home use and DIY purpose. The wrenches in this set feature angled ends by 15° and 12-point box ends--making it easier to turn fasteners in tight spaces.
Pliers
WORKPRO forged-steel pliers feature long-tempered heat treated jaws for durability. A rust-resistant finish by nickel plating which protects the pliers from the corrosion and keeps them looking fresh after a hard day's work. The handles are with WORKPRO moulded ergonomic handle, the slip-resistant grip gives extra comfort. For extra durability, the pliers feature hardened cutting edges, and chrome-nickel steel gives them an extra-tough cutting edge. These pliers meet or exceed ANSI standards.
Screwdriver
WORKPRO screwdrivers in this set included:
(5) screwdriver: SLT3/16 inch x 4inch, SLT1/4X6 inch, PH2X1-1/2 inch, PH1X3 inch,PH2X4 inch.
(6) precision screwdriver: SLT1.4, 2.0, 2.4, 3.0 millimeter, PH1, PH0. The screwdrivers are chrome-plated for durability and corrosion resistance. Magnet tips are featured.
Magnetic Screwdriver Handle and Bits
WORKPRO magnetic screwdriver handle and bits in this set are constructed by chome-vanadium steel, hardened and tempered, with sand blasting finish for durability. 60 piece 1 inch bits included for all purpose use.
Hammer
WORKPRO 16 ounce ball-pin hammer constructed by drop-forged carbon steel, fully heat treated and polished striking head surface. Fiberglass handle not only absorbs shock and vibration, but also for bending resistance.
Adjustable Wrench
WORKRP 8 inch (200 millimeter) adjustable wrench constructed by chrome vanadium steel for strength, chrome plated for durability; Dual material comfort grip handle for anti-slip.
Hex Key
WORKPRO hex key set with shelf, constructed by chrome-vanadium steel, hardened and tempered; Black finish for anti-rust. Metric sizes including: 1.27、1.5、 2、2.5、3、3.5、4、4.5、5、5.5、6 millimeters, 4 millimeters; SAE sizes including: 0.05,1/16,5/64,3/32,7/64,1/8,9/64,5/32,3/16,7/32,1/4 inches.
Utility Knife
WORKPRO utility knife constructed by die-cast aluminum body with comfort grip, quick change blade for easy operation. Four locking position for multiple using. 20 piece SK5 blades attached.
Tape Measure
WORKPRO 25F/7.5 meter tape measure features a paint-coated blade to withstand abrasion, a durable high-impact ABS case for durability, covered by rubber for comfortable holding. Both thumb and index finger locking for easy operation. Both SAE and metric measurement scales for multi-purpose reading.
1 other product in the same category: