
an industrial safety & marine products distribution company

an industrial safety & marine products distribution company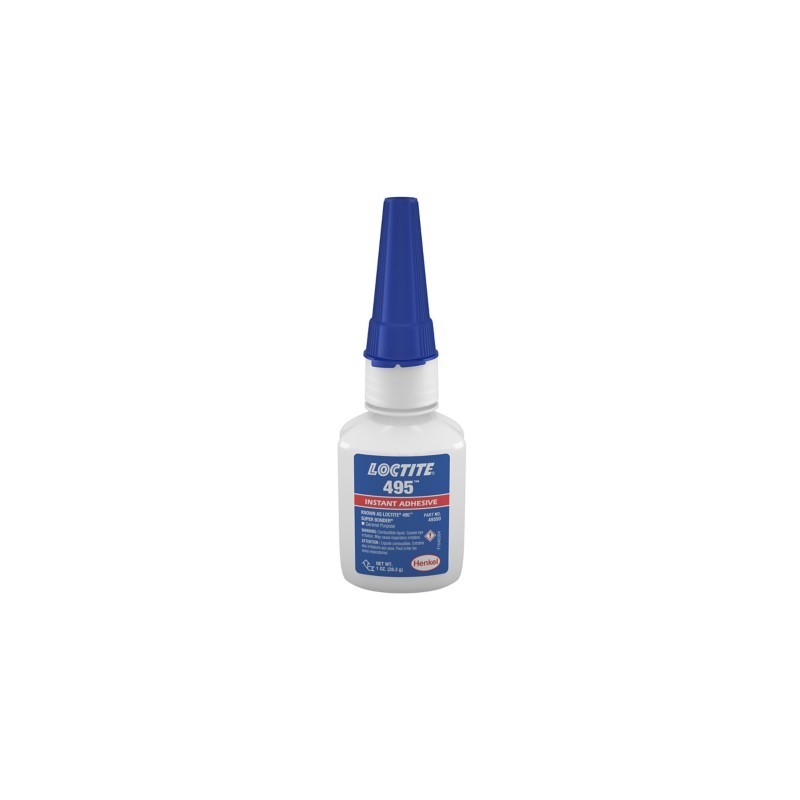 
Loctite 495 Super Bonder Instant Adhesive
High-strength, fast-setting, cyanoacrylate adhesives that bond metals, alloys, plastics, glass, ceramics and rubber - together or in combination. Instant fixturing ...
Secured

Fast Delivery

7 days Return
Loctite® 495 Super Bonder Instant Adhesive is a general purpose cyanoacrylate instant adhesive, designed to bond rubber, metal, and plastic parts with gaps to 0.004 inch.

Products Features
High thermal performance

For rapid bonding of plastics, rubbers and metal

Benefits
Very fast fixture speed

Particularly suited for bonding a wide variety of materials, such as metals, plastics, elastomers, paper, leather, cork, fabric, wood, chromate plated parts, etc.

Fast cure even in challenging environments

Substrates and Applications
Abrasive tips to metal-machine tools

Stainless steel to carbon fiber-cutlery

Glass-filled polyurethane to steel – Firearm assembly

Aluminium to rubber pads – Ladders

PVC to EPDM rubber – Appliance consoles

Urethane foam rubber to painted steel – Handle grips

Paper to PVC – Packaging materials

ABS to PVC – Vacuum cleaners

Acrylic to PVC – Plastic fencing

Braided sleeve to rubber – Hoses

Synthetic rubber to ABS – Legs to equipment housings

Technical Data
Fixture time: 5 – 20 sec.

Colour: colourless transparent

Suited for plastics

Suited for polyolefines in combination with Primer Loctite 770 or Loctite 7239

Suited for rubbers

Suited for metals

Viscosity in mPa•s: 45

Service temperature range: -40 °C to +120 °C

Pack sizes: 20g, 25g, 500g


Instant Adhesives for General Purpose
The industry's strongest and fastest instant adhesives have set a new standard for performance. With temperature resistance up to 250°F (120°C), you can keep the strength and fixture time you need in higher heat applications.
Low Odor / Low Bloom Instant Adhesives
Chemically engineered to minimize blooming, the frosty white film that can occasionally be seen outside of the adhesive bond line of a traditional cyanoacrylate adhesive. Ideal for battery cases, cosmetic cases, display systems, gasketing and sealing.
| | |
| --- | --- |
| Color | Clear: Ultra Clear |
| Fixture Time | 5 - 20 sec. |
| Full Cure Temperature | 77 °F |
| Gap Fill | 0.006 in. |
| Shear Strength Unit, Grit Blasted Steel | psi |
| Shear Strength, Grit Blasted Steel | 2750 |
| Specific Gravity | 1.05 g/l |
| Specific Gravity Temperature | 25 °C |
| Technology | Ethyl |
| Temperature | -65 - 250 °F |
| Viscosity | 45 mPa.s (cP) Brookfield |
| Viscosity Temperature | 77 °F |